Emergency Declarations and Their Medicaid Impacts
A few state Governors are ending the public health emergency (PHE) declaration for their state, with more to follow. This is causing concern and confusion in the Medicaid provider and health plan communities. Providers are concerned about a sudden increase in the uninsured while Medicaid managed care plans are concerned about a sudden drop in members. As a result, I am frequently asked how states are planning to manage their Medicaid population when the "public health emergency" ends.
The Families First Coronavirus Response Act (FFCRA) increased a state's Federal Medical Assistance Percentage (FMAP) by 6.2 percentage points if a state maintains "continuous eligibility," with few exceptions, for their Medicaid beneficiaries. From February to November 2020, Medicaid and CHIP enrollment increased in every state, approximately 7.7 million people (10.8%) overall. In Fiscal Year (FY) 2021, Medicaid is expected to increase by 8.8%. Providers and Medicaid managed care plans concerns are justified.
Table I reflects the beginning and ending dates of continuous eligibility (enrollment) and the corresponding FMAP increase. As you can see, both are contingent on the PHE. But which PHE? A PHE can be declared at various levels within a state, depending on the laws of that state. A PHE can also be declared at a federal level by the Secretary of The U.S. Department of Health and Human Services (HHS).
Public Health Emergency Act
Under section 319 of the Public Health Service (PHS) Act, the HHS Secretary can declare a Public Health Emergency (PHE) if he determines, after consulting with such public health officials as may be necessary, that 1) a disease or disorder presents a PHE, or 2) a PHE, including significant outbreaks of infectious diseases or bioterrorist attacks, otherwise exists. A PHE gives agencies within HHS flexibility in how current funds and personnel are allocated.
The HHS declaration is the PHE we are reliant on for COVID-19 Emergency Declarations, Flexibilities and Waivers and continuous enrollment.
Table I


HHS must renew the declaration of their PHE every 90 days. President Biden said he intends to do that until the end of 2021 which would put the ending date of the last PHE declaration at approximately January 20, 2022. Additionally, he has said his administration will give states 60-days' notice before the expiration of the last PHE.
States will have work to do when the PHE ends. The HHS Centers for Medicare and Medicaid Services (CMS) issued a letter to State Health Officials in December 2020 to help them prepare.
Other Emergency Acts
There are other types of emergency acts you may have heard of. They are also important in the unwinding of the pandemic proclamations. Two of these are the Stafford Act and the National Emergencies Act.
The Robert T. Stafford Disaster Relief and Emergency Assistance Act of 1988 (Stafford Act), commonly confused with the National Emergencies Act, is triggered by a Presidential declaration of an emergency or major disaster. Federal assistance for a major disaster is broader than for an emergency. In 2020, President Trump invoked the Stafford Act's major disaster provision for all 50 states and most territories, marking the first time in history. This allowed for the mobilization of multiple agencies, like the National Guard, and allowed the government to tap into the $50 billion emergency response fund under the Federal Emergency Management Agency (FEMA).
The National Emergencies Act (NE), Sections 201 and 301, authorizes the president to declare a national emergency which triggers emergency authorities that exist in other federal laws. On February 24, 2021, President Biden renewed the NE proclamation prior to the anniversary date of March 1, 2021 and published it in the Federal Register. It will terminate automatically on March 1, 2022, unless renewed again within the 90-day period prior to the anniversary date.
The declaration of both a NE and a PHE allow for 1135 Waivers. The purpose of the 1135 waiver authority is to ensure that sufficient healthcare services are available to meet the needs of individuals enrolled in Social Security Act programs when and where an emergency is experienced. When a blanket waiver is issued, providers don't have to apply for an individual 1135 waiver.
Table II summarizes what we have been talking about and the waivers and flexibilities impacted by each.
Table II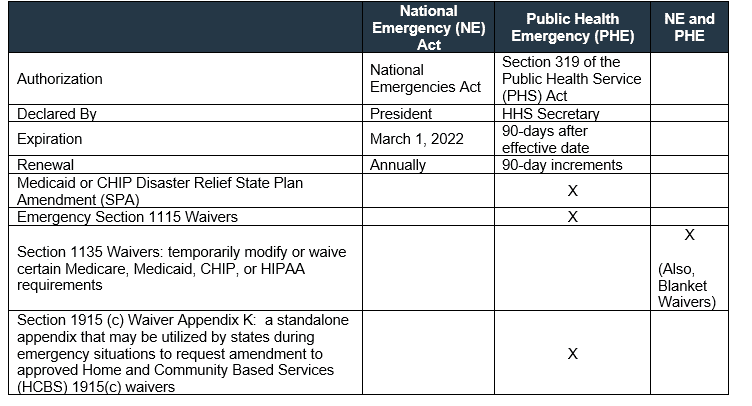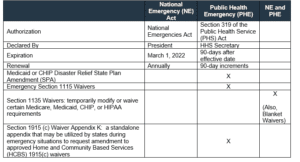 Centauri Health Solutions maintains a close watch over many legislative happenings in the healthcare space to keep our clients informed and prepared. Contact us at info@centaurihs.com for more information on how we can help your hospital or Medicaid managed care plan navigate through this challenging time.
Shanna Hanson, FHFMA, ACB
Manager, Business Knowledge
Centauri Health Solutions, Inc.