Is Your Team Ready for the Public Charge?
Fear and confusion have caused immigrants to disenroll from government programs or forgo benefits for which they are eligible.
According to a December 2018 nationwide survey, about one in seven adults in immigrant families did not participate in a government program for fear of risking future green card status.1
What is causing this?
"Public Charge," an inadmissibility test, has been part of federal immigration law for over a hundred years. The test was intended to identify aliens who, in the future, are likely to depend on the United States government as their main source of support.
But a much more restrictive public charge regulation was proposed and posted in the Federal Register on October 10, 2018 and finalized on August 14, 2019. The day before it was scheduled to go into effect on October 15, 2019, federal judges issued nationwide injunctions blocking the regulation from taking effect for the foreseeable future.
What changes with the new regulation?
The new rule applies a "totality of circumstances" test with positive and negative factors that include age; health; family status; assets, resources, and financial status; and education and skills
The receipt of Medicaid and certain non-cash, public assistance programs can be considered, too. The prior rule excluded Medicaid, except for long-term care, and other non-cash programs
There are guidelines and weighting applied to these positive and negative factors
The positive factors must outweigh the negative
Only benefits received or applied for after the effective date count as negative factors
There is a 36-month look-back period that begins with the effective date. The full look-back period won't be in force until 36-months after the effective date
A family member's receipt of benefits does not count against an applicant for a Green Card
Who does public charge apply to?
Public charge applies to individuals seeking to become Legal Permanent Residents (LPRs), also known as green card holders, and individuals seeking to immigrate to the United States. It also affects certain people seeking to extend or adjust their non-immigrant status while in the United States.
Public charge does not apply to individuals who are already LPRs, even when they renew their documentation, unless they leave the country for more than 180 consecutive days. Their documentation is being renewed, not their legal permanent status.
There are other exempt categories, too:
Refugees
Asylees
Survivors of trafficking, domestic violence, or other serious crimes (T or U visa applicants/holders)
VAWA self-petitioners
Special immigrant juveniles (SIJS)
Certain people paroled into the U.S.
Other "humanitarian" immigrants
Some others
Individuals who have or are seeking status in these categories can and should continue receiving benefits consistent with state law.
What benefits are included/not included in public charge?
Here is a handy chart from Protecting Immigrant Families that details this well. 2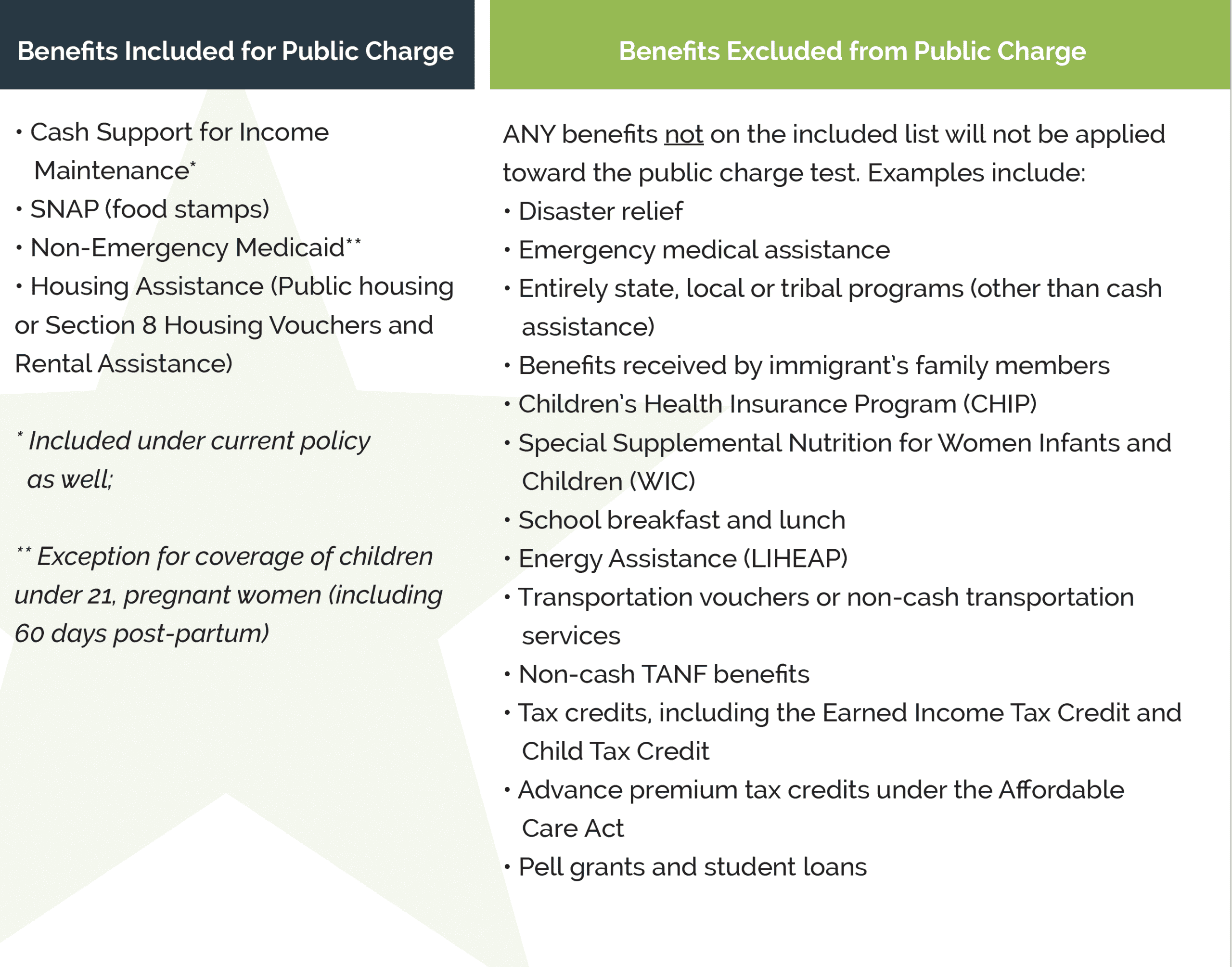 Below is a side-by-side, "before and after" comparison of the regulations from the Kaiser Family Foundation.3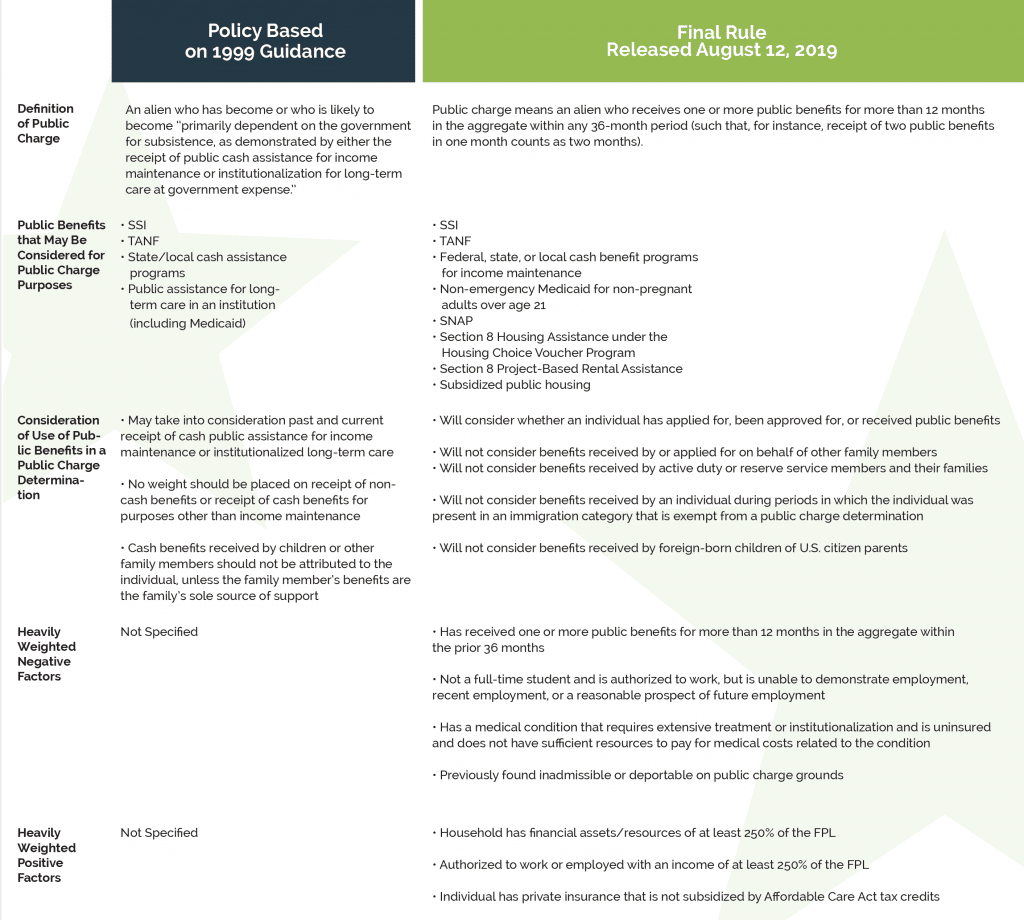 Ultimately, anyone with concerns, questions, or reservations should seek the advice of an attorney.4
1 CHANGES TO PUBLIC CHARGE: ANALYSIS AND FREQUENTLY ASKED QUESTIONS, Protecting Immigrant Families, Updated September 2019, https://docs.google.com/document/d/1zHLRaciDqIZfkI_icRGVJWKWcinP6cAwvkuAeae8eog/edit
2 Ibid.
3 Proposed Changes to "Public Charge" Policies for Immigrants: Implications for Health Coverage, Kaiser Family Foundation, August 12, 2019, https://www.kff.org/disparities-policy/fact-sheet/proposed-changes-to-public-charge-policies-for-immigrants-implications-for-health-coverage/
4 Immigration Advocates Network legal directory: https://www.immigrationadvocates.org/nonprofit/legaldirectory/