Centauri Health Solutions Named One of the Ten Best Tech Startups in Scottsdale
Centauri Health Solutions Named One of the Ten Best Tech Startups in Scottsdale
SCOTTSDALE, AZ (Oct. 23, 2018) – Centauri Health Solutions has been named one of 2019's Best Tech Startups in Scottsdale by The Tech Tribune.
In selecting the top ten companies, The Tech Tribune staff considered revenue potential, leadership team, brand/product traction and competitive landscape. Additionally, companies had to be independent, privately owned, not more than 10 years old and the recipient of at least one round of funding.
"We are honored to be recognized by The Tech Tribune as one of the Best Tech Startups in Scottsdale," said Adam Miller, CEO of Centauri. "In launching Centauri in 2014, our goal was to fill an unmet need in the marketplace and build the solution from the ground up. Today, while we have grown to more than 1,000 associates across seven offices nationwide, I'm proud that our team maintains the innovative, collaborative mindset at the core of any successful startup, as we chart a new path in healthcare."
The Tech Tribune publishes its Best Tech Startups series annually, including top ten lists for every major city in the U.S.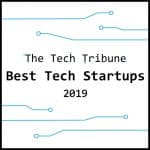 About Centauri Health Solutions
Centauri Health Solutions focuses on revealing care opportunities through its suite of products and services. Delivering data-driven services, through private cloud-based software solutions, the firm provides comprehensive data management designed specifically for risk adjustment and quality-based revenue programs, in addition to enrollment and eligibility solutions. Centauri improves member outcomes and financial performance for health plans, hospitals and at-risk providers by supporting initiatives in health care enrollment, risk adjustment, RADV risk mitigation, HEDIS and Star Ratings. Headquartered in Scottsdale, Ariz., Centauri Health Solutions employs more than 1,000 associates in seven offices nationwide. For more information, visit www.centaurihs.com.