Health Insurance Exchange Quality Ratings System
Did you notice that during the current 2020 Open Enrollment Period (OEP), federal and state-based exchanges are publicly displaying their Five-Star Quality System (QRS) rating information on exchange health plans?
The goal of the QRS is to increase transparency and competition by providing comparative information for consumers as they shop and select plans. The Centers for Medicare and Medicaid Services (CMS) administers the Star Ratings Program, which is intended to measure the overall quality of care and services provided to health plan members.
Most, but not all, Qualified Health Plans (QHPs) are displaying between one and five star-ratings (five being the highest) in three weighted categories, in addition to an overall rating.
This breakout is designed to give consumers fact-based information about the quality of services and the member experience, exactly what CMS set out to do when designing the QRS.
The table below offers a simplified explanation of the QRS.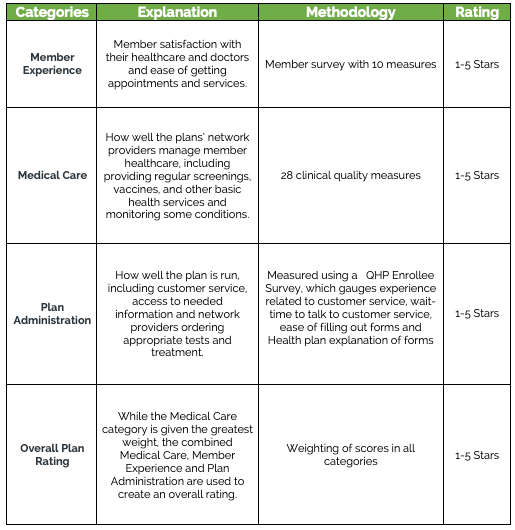 While the star program is new to the federal exchanges, it is not new to healthcare. Star rating programs have existed for hospitals, nursing homes and Medicare Advantage plans and now extend to the exchanges.
The rating system has its drawbacks and not everyone will find it helpful. For example, a plan would not be rated if it has not been in operation for at least three consecutive years. There are other exceptions, too. Nearly a third of health plans on the federal exchanges don't yet have a quality rating. Lack of a star rating does not mean the plan has a low quality rating. Additionally, the federal exchanges only operate in 39 states and in nearly a quarter of counties across the United States, consumers have only one QHP to choose from.
When reviewing plans, consumers are likely to first ensure their doctor and medications are covered and then look at costs, before considering the star rating. As with all new information, there is also a learning curve.
The QRS will continue to be monitored by CMS, which will solicit feedback from consumers to enhance and improve the display of QHP quality rating information moving forward. The current open enrollment period ends on December 15.
Resources